Lieutenant Colonel Karen J. Wagner, born February 22, 1961 at Fort Riley, KS. Karen was a distinguished military graduate of University of Nevada, Las Vegas. She was commissioned on February 14, 1984 as a Medical Service Corps Officer.
She also holds a Master's degree in Health Services Administration from Webster University. She was promoted to her present rank of Lieutenant Colonel in August, 2001.
She served our country in many assignments.
Medical Personnel Officer, Office of the Army Surgeon General with duty as the Personnel Policy Integrator for the Deputy Chief of Staff, Personnel at the Pentagon.
Adjutant for the 85th Medical Evacuation Hospital at Fort Lee, VA
Executive Officer and Company Commander of D Company, 187th Medical Battalion, Fort Sam Houston, TX
Chief, Personnel for the 57th Evacuation Hospital at Wurzburg, Germany
Chief, Personnel Services Branch at Walter Reed Army Medical Center, Washington, D.C.
Personnel Officer assigned to Office of the Army Surgeon General
Staff Officer with Inspector General Office, U.S. Army Medical Command, Fort Sam Houston, TX.
Executive Officer and Secretary General Staff, Walter Reed Army Medical Center, Washington, D.C.
Karen is survived by her mother, Mattie S. Wagner; sister, Kim J. Wagner; brothers, Warren E. and Karl V. Wagner and numerous other relatives.
Interment with Full Military Honors were held at Fort Sam Houston National Cemetery.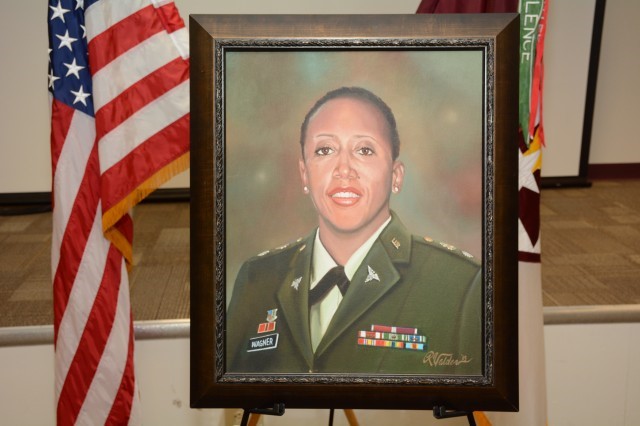 Lieutenant Colonel Karen J. Wagner was one of the 125 people killed during the 9/11 attacks on the Pentagon. She was serving at her position of medical personnel officer in the Office of the Army Surgeon General and Deputy Chief of Staff for Personnel during that tragic day. To recognize her service and sacrifice to the U.S. Army and the Nation, the headquarters building of the 32d Medical Brigade is named in her honor. As you walk into Wagner Hall her photo is on display, along with a shadow box with her awards. Now a very special painting will be placed on the wall of building 902, created by another person who dedicated his life to service, the late Mr. Richard Valdez. In a touching ceremony the family of Mr. Valdez donated a painting of LTC Wagner to the Soldiers of the 32nd Medical Brigade.
Karen J. Wagner High School in San Antonio Texas, was named in her honor…

LTC Karen J. Wagner VFW Post 12119 was instituted on March 21, 2012 in Las Vegas, NV. It is with much pride and honor to name our VFW Post after such a distinguished American.